Bachelor of Arts in

English Language
The Bachelor of Arts in English Language (BA English Language) degree is equivalent to level 6 of the Philippine Qualifications Framework. It is designed to integrate theory and practice to prepare the students for effective communication. The program provides a world-class bachelor's degree that is nationally accredited. It also aims to produce graduates who will be professionally competent, morally upright, and socially responsible contributors to national dvelopment.
The program leading to the degree of Bachelor of Arts in English has the following objectives:
Produce competent and effective teachers who are articulate speakers of English and Foreign Language, which skill would make them globally competitive leaders in the field of education.
Enable graduates to demonstrate a high level of English proficiency both in oral and written forms;
Enable graduates to reason clearly and logically and to express themselves forcefully either orally or in writing.
Enable graduates to analyze, synthesize and probe approaches to different human problems and to marshal relevant information on a given topic or problem.
Enable graduates to utilize facts or information in projects or activities designated to enlighten the people or to improve their physical, intellectual, emotional and spiritual conditions.
To enable students to acquire the theoretical and practical skills needed to be globally competitive and nationally certified a professional English Teachers.
To develop the critical, analytical and comparative skills by engagement with a wide range of texts written in English
To engage and enhance the students enthusiasm for the subject and their awareness of its social and cultural importance.
To enable students to get a broad liberal education in the arts and letters, social sciences and philosophy, natural science and mathematics.
To enable students to develop the cultural sensitivity, ethical responsibility, and social consciousness needed to become upright citizens of the Philippines and the world
The graduates may pursue careers in any of the following academic and scholarly work:
Teaching, training, and research
Public relations industry
Advertising industry
Documentation business
Foreign service
Media and publishing
Government and Diplomatic service
Translator
Editor
Writer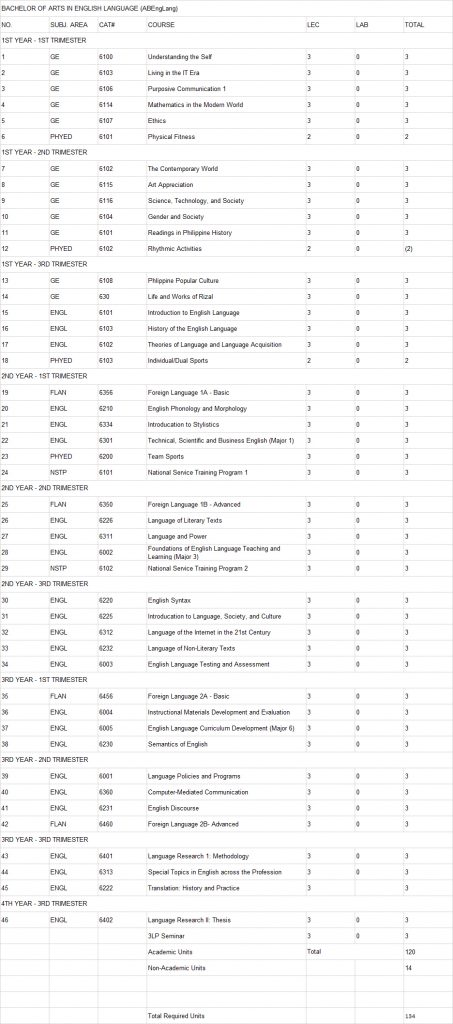 OEd's Go-to Statement
For professionals who would like to pursue their studies and work at the same time, we are the Go-to for flexible distance education with established expertise in the field of online education since 2015. Unlike the other competitors, we value the students by providing the best customer service while giving them the best advice on how to finish their studies as fast as possible. The 24/7 platform accessibility liberates the students to manage their time and learn at their own pace, anytime, anywhere.