Bachelor of Science
Major in
Psychology
The Bachelor of Science Major in Psychology (BS Psychology) offers an in-depth exploration of human behavior and cognitive processes. It aims to provide a solid foundation in the major areas of psychology, laying the groundwork for advanced studies and specialized training.

Through the curriculum, this degree extends its reach to professions including medicine, education, law, and business management, equipping graduates with a diverse skill set. Studies focus on the basics of psychology, moving on to experimental and abnormal psychology, with discussions on the sciences that support this field of study.

With a strong emphasis on ethical values, the program shapes graduates into socially responsible professionals, poised to make meaningful contributions to national development.
The curriculum is based on the standards and minimum requirement of Commission on Higher Education (CMO 34, series of 2017) and is benchmarked against the curricula of leading local and international academic institutions offering similar program
The graduates of the BS Psychology course may pursue careers in major sectors of the Philippine society such as:

Health Care
Psychiatrist
Clinical Psychologist
Counseling Psychologist
Medical Services Manager
Mental Health Technician
Rehabilitation Specialist
Neuropsychologist
Education
Primary Teachers
Career Counselor
School Psychologist
Psychology Teacher
Business and Government Organizations
Sales Manager
Hiring Manager
General Manager
Human Resource Officer
Occupational Psychologist
Training and Development Manager
Public Relations Manager
Marketing Manager
Market Researcher
Civil Society
Social Worker
Social Services Director
Community Development Officer
Forensic Psychologist
Parole officer
Overall, a degree in BS Psychology in the Philippines lets students pursue multiple occupations of interest upon graduation. It's a great stepping stone to various branches of study and a fruitful career in their field of choice.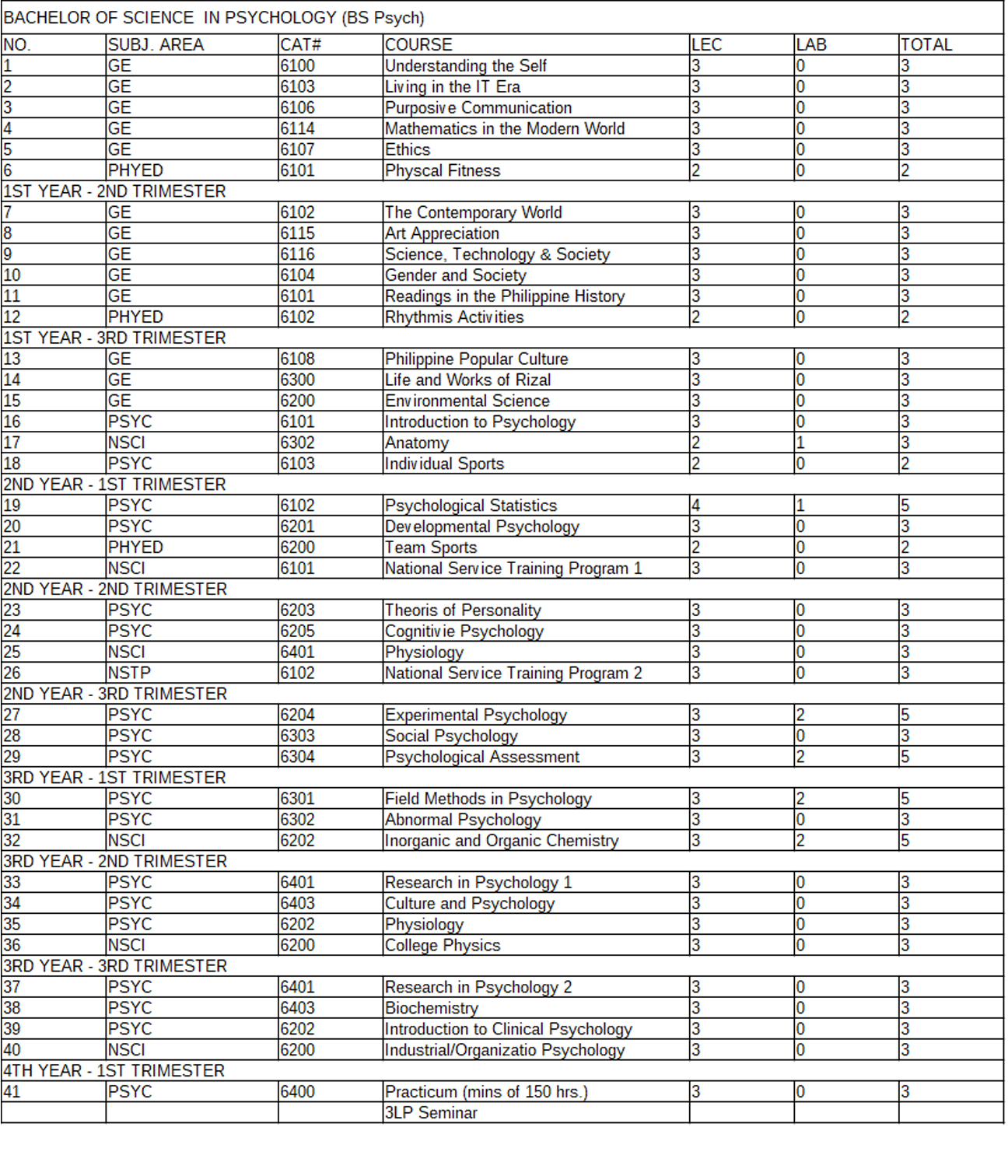 Why Pursue a Bachelor of Science in Psychology Degree with OEd?
Embark on a transformative academic journey with OEd and pursue a Bachelor of Science degree in Psychology in the Philippines.

Here at OEd, we pride ourselves in offering an online educational experience that combines rigorous academic instruction with practical application. Our BS Psychology program boasts a distinguished faculty of industry experts, ensuring world-class education that encompasses the latest advancements in the field.

The curriculum is thoughtfully crafted to provide a comprehensive understanding of psychology's core principles while facilitating avenues for specialization. This aims to prepare students for both advanced studies and diverse career opportunities in the different branches of psychology.

The educational experience here at OEd places a profound emphasis on experiential learning. Our curricula and learning methods create a dynamic environment conducive to personal and academic development. By offering research opportunities and practical projects, we encourage students to apply their knowledge in real-world scenarios.

By choosing OEd, students go on an empowering experience of personal growth, academic excellence, and a future brimming with meaningful contributions to society. And with OEd's ethical values at their core, we nurture graduates in becoming professionally adept and morally upright citizens of the country.

Enroll now and make a difference in society through psychology!
Frequently Asked Questions about the BS Psychology Course in the Philippines
To address some of the queries students may have about getting a Bachelor of Science in Psychology in the Philippines, here are some answers to frequently asked questions:
OEd's Go-to Statement
For professionals who would like to pursue their studies and work at the same time, we are the Go-to for flexible distance education with established expertise in the field of online education since 2015. Unlike the other competitors, we value the students by providing the best customer service while giving them the best advice on how to finish their studies as fast as possible. The 24/7 platform accessibility liberates the students to manage their time and learn at their own pace, anytime, anywhere.