Bachelor of Arts in

Political Science
The Bachelor of Arts in Political Science (BA Political Science) degree is equivalent to level 6 of the Philippine Qualifications Framework. It is the study of government, public policies and political behavior, using both humanistic and scientific perspectives, and skills to examine all countries and regions of the world. The program deals with the broad spectrum of concerns, undertanding, links between the individual (micro) and the institutional (macro), and connections between the national and global structures of policy making and politics. The program focuses on the Philippine Government and Politics with Comparative Studies. It also aims to produce graduates who will be professionally competent, morally upright and socially responsible contributors to national development.
The program leading to the degree of Bachelor of Arts in Political Science has the following objectives:
To expose the students to the theories, practices and realities of political conditions and governance not only locally, but also nationally and internationally. It also provides opportunities for the students to understand better the different types of governments existing in major countries in Asia, the Americas and Europe, and also the intricacies of democratic republican states like the Philippines.
To enable students to obtain a comprehensive knowledge and deep understanding of the field of Political Science.
To enable students to acquire the theoretical and practical skills needed to be globally competitive and nationally recognized Political Scientist.
To enable students to get a broad liberal education in the arts and letters, social sciences and philosophy, natural science and mathematics.
To enable students to develop the cultural sensitivity, ethical responsibility, and social consciousness needed to become upright citizens of the Philippines and the world.
Graduates of the online BA Political Science will be equipped with skills and knowledge fit for the following positions in the Philippines:
Policy Analyst
Legislative Assistant
Public Relations Specialist
Social Media Manager
Political Consultant
Lobbyist
Journalist/Political Correspondent
Political Science Teacher/Lecturer
Public Affairs Research Analyst
Political Commentator
Polling/Survey Analyst
Labor Relations Specialist
Government Service Staff
Paralegal/Legal Assistant
Public Servant
Researcher in Politics and Law
Personnel in Government Offices, Courts, Law Firms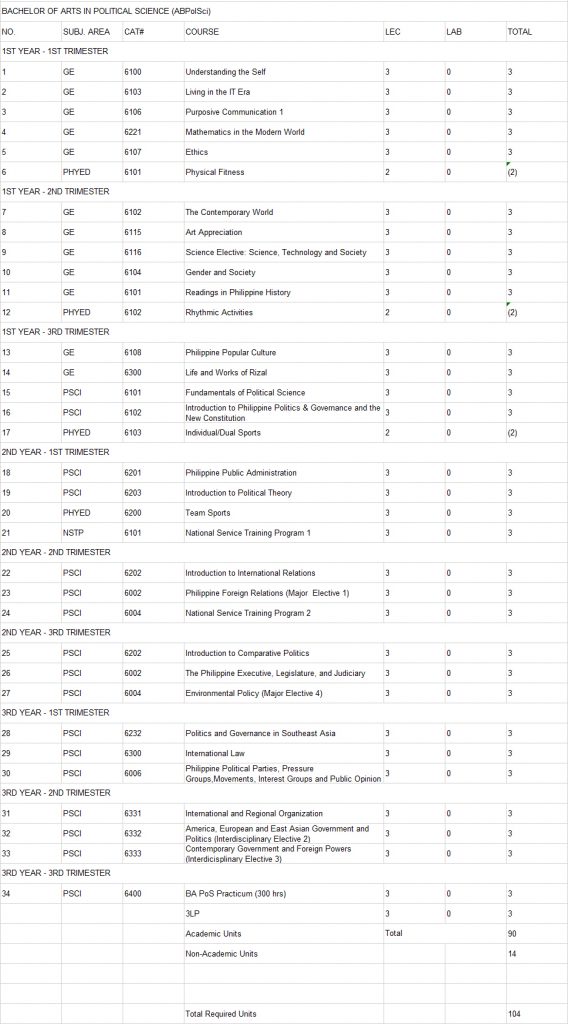 OEd's Go-to Statement
For professionals who would like to pursue their studies and work at the same time, we are the Go-to for flexible distance education with established expertise in the field of online education since 2015. Unlike the other competitors, we value the students by providing the best customer service while giving them the best advice on how to finish their studies as fast as possible. The 24/7 platform accessibility liberates the students to manage their time and learn at their own pace, anytime, anywhere.