Bachelor of Science in Business Administration Major in

Human Resource Management
The Bachelor of Science in Business Administration Major in Human Resource Management (BSBA-HRM) program is an interdisciplinary and problem-focused program comprising three integrated elements: core, business, and management. It prepares students to play an integral role in the maintenance of business structures and encourage the growth of organizations and its people.
The BSBA Major in Human Resource Management program is designed to develop the critical thinking and analytical information, communication technology skills, human relations as well as communication, quantitative, and computer skills needed by the graduates to successfully serve as leaders in business organizations.
Under OEd's program, students complete a holistic training that also exposes them to different aspects of Human Resource Management, such as recruitment, compensation, benefits, and training and development.
The program leading to the degree of Bachelor of Science in Business Administration major in Human Resource Management has the following objectives:
To assume supervisory and or managerial responsibilities within their organization
Pursue graduate studies in business and management
Manage a business
BS HR Management is a valuable and in-demand course in the corporate world. Here are some potential career paths as an HR graduate:
Management Trainee in Human Resource Management
Office Assistant
Administrative Assistant
Human Resource Assistant
Executive Assistant
Entrepreneur
Recruitment Assistant
Compensation Assistant
Benefits Assistant
Training and development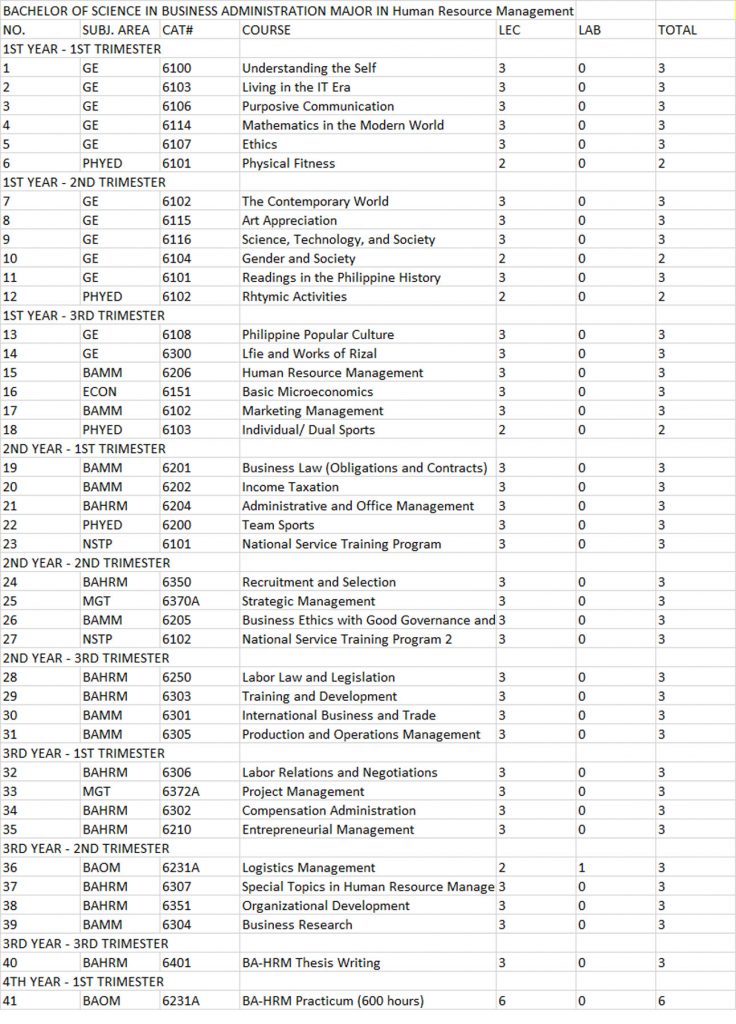 Why Get an Online Bachelor's Degree in Human Resource Management?
Human Resources is an in-demand profession in all industries in the Philippines, which is why OEd's BSBA in Human Resource Management prepares students for a fulfilling career in the future. The four-year program builds skills and competencies that will allow students to thrive in any industry.
After all, an institution for education and learning is the place where it all begins, and OEd's online bachelor's degree programs offer quality education, flexibility, and affordability. Online education is designed to better allow students and professionals to pursue a degree while continuing with their careers.
Be guided by top instructors as you immerse in the world of human resource management. Gain essential knowledge and learn key management skills that can help you shape your future workplace.
As a course, BSBA Major in Human Resource Management will challenge and enrich your mind to shape you into a well-rounded professional.
OEd's Go-to Statement
For professionals who would like to pursue their studies and work at the same time, we are the Go-to for flexible distance education with established expertise in the field of online education since 2015. Unlike the other competitors, we value the students by providing the best customer service while giving them the best advice on how to finish their studies as fast as possible. The 24/7 platform accessibility liberates the students to manage their time and learn at their own pace, anytime, anywhere.
Frequently Asked Questions About Online BSBA in Human Resource Management