Bachelor of Science in Business Administration Major in

Financial Management
The BSBA Major in Financial Management (BSBA-FM) program aims to prepare the students to possess a strong foundation on theory, principles, and concepts, as well as analytical tools and perspectives that would provide a sound and competitive basis for financial decision-making. The program requires high levels of dynamism and commitment from the students. The students will work in depth in each course through proper balancing of finance theory and research literature with the practical aspects of financial management.
The Bachelor of Science in Financial Management program aims to produce graduates for careers in the financial department of general businesses, investment banking firms, broker-dealer firms, management consulting firms, dealer firms, other financial institutions, central banks, and international financial institutions. The program provides students with a strong foundation in financial accounting, finance, economic principles, and quantitative methods. Upon graduation, our students are well-prepared to embark on successful careers in financial management.
The Bachelor of Science in Business Administration major in Financial Management program aims to produce globally competitive graduates who will be professionally competent, morally upright, and socially responsible contributors to national development.
By launching a fully-online Bachelor's in Financial Management program, we aim to be able to equip more Filipino students in the country, regardless of their location, with skills that allow them to pursue successful financial analyst careers.
Specifically, in two to five years after graduation, the BSBA Major in Financial Management alumni shall:
Qualify for a career in business administration specifically in various general and specialized financial management, investment management trust operations, financial securities markets, capital market, foreign currency markets, supervisory and managerial positions; and
Acquire the competencies, skills knowledge, and work value necessary for self-employment, allowing them to prosper in their own businesses.
Here are the BSBA Major in Financial Management job opportunities alumni can apply for in the Philippines after graduation:
Management Trainee in Corporate Finance
Management Trainee in bank or insurance company
New Account Personnel
Credit and Collection Assistant
Credit Analyst
Treasury Assistant
Entrepreneur
Cashier
Traders/Financial Analyst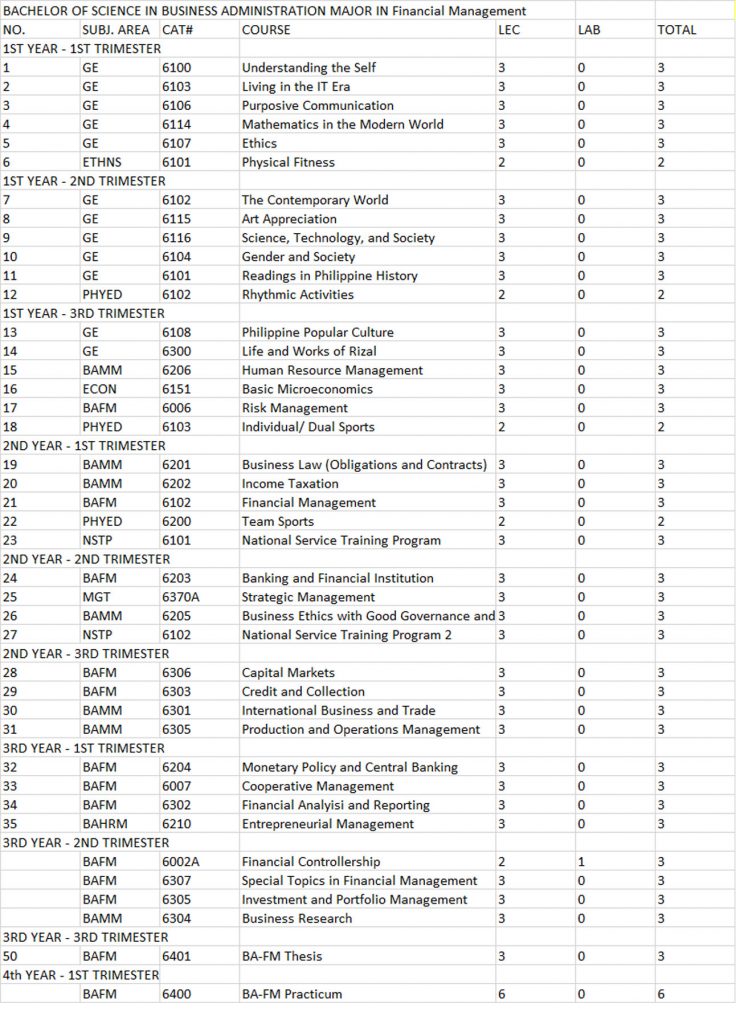 Why Get an Online Bachelor's Degree at OEd
OEd is the country's pioneer in online education, and we offer a comprehensive curriculum that will prepare you for a successful career in this exciting field. With our online Bachelor of Science in Financial Management program, you'll gain the knowledge and skills you need to manage finances effectively. You'll learn about financial planning, investment strategies, and risk management. You'll also develop strong analytical and problem-solving skills that will prepare you in your corporate journey.
One of the best things about getting an online Bachelor's Degree in Financial Management is that you have full control over your schedule. You can study anytime, anywhere as long as you have a stable internet connection. That means you can choose to study in the morning, afternoon, or evening, whichever time works best for you!
Online degrees also give you the flexibility to study at your own pace. Get an online Bachelor's in Financial Management degree on your own terms with OEd.
FAQs on the BSBA Major in Financial Management Program
OEd's Go-to Statement
For professionals who would like to pursue their studies and work at the same time, we are the Go-to for flexible distance education with established expertise in the field of online education since 2015. Unlike the other competitors, we value the students by providing the best customer service while giving them the best advice on how to finish their studies as fast as possible. The 24/7 platform accessibility liberates the students to manage their time and learn at their own pace, anytime, anywhere.