Online Bachelor of Arts in

Psychology
The Bachelor of Arts in Psychology (BA Psychology) course is designed to provide initial training for those interested in teaching, research, and the practice of psychology. It also provides a solid foundation on the major areas of psychology which may also be used as preparation for further studies and training in particular specializations of psychology or other professions such as medicine, education, law, and business management. The Bachelor of Arts Major in Psychology aims to produce graduates who will be professionally competent, morally upright, and socially responsible contributors to national development.
The online Bachelor of Arts in Psychology degree program has the following objectives:
To train students to appreciate the complexities of human behavior, and teaches them the tools with which to understand these complexities;
To enable students to obtain a comprehensive knowledge and deep understanding of the field of Psychology;
Provide grounding in all areas of psychology such that students may progress onto postgraduate training and education in psychology.
To enable students to acquire the theoretical and practical skills needed to be globally competitive and nationally recognized/licensed Psychologist/Counselor
To enable students to get a broad liberal education in the arts and letters, social sciences and philosophy, natural science and mathematics.
To enable students to develop the cultural sensitivity, ethical responsibility, and social consciousness needed to become upright citizens of the Philippines and the world.
The graduates of the BA Psychology degree may pursue careers in major sectors of the Philippines such as:
The helping professions (psychotherapy, medicine)
Education (licensed psychometrician)
Business and governmental organizations (human resource management, i.e. selection, training and development),
Civil society (community development)
** Applicable for New incoming students only. Existing students will go by their respective curriculum. List of courses may change subject to evaluation and crediting.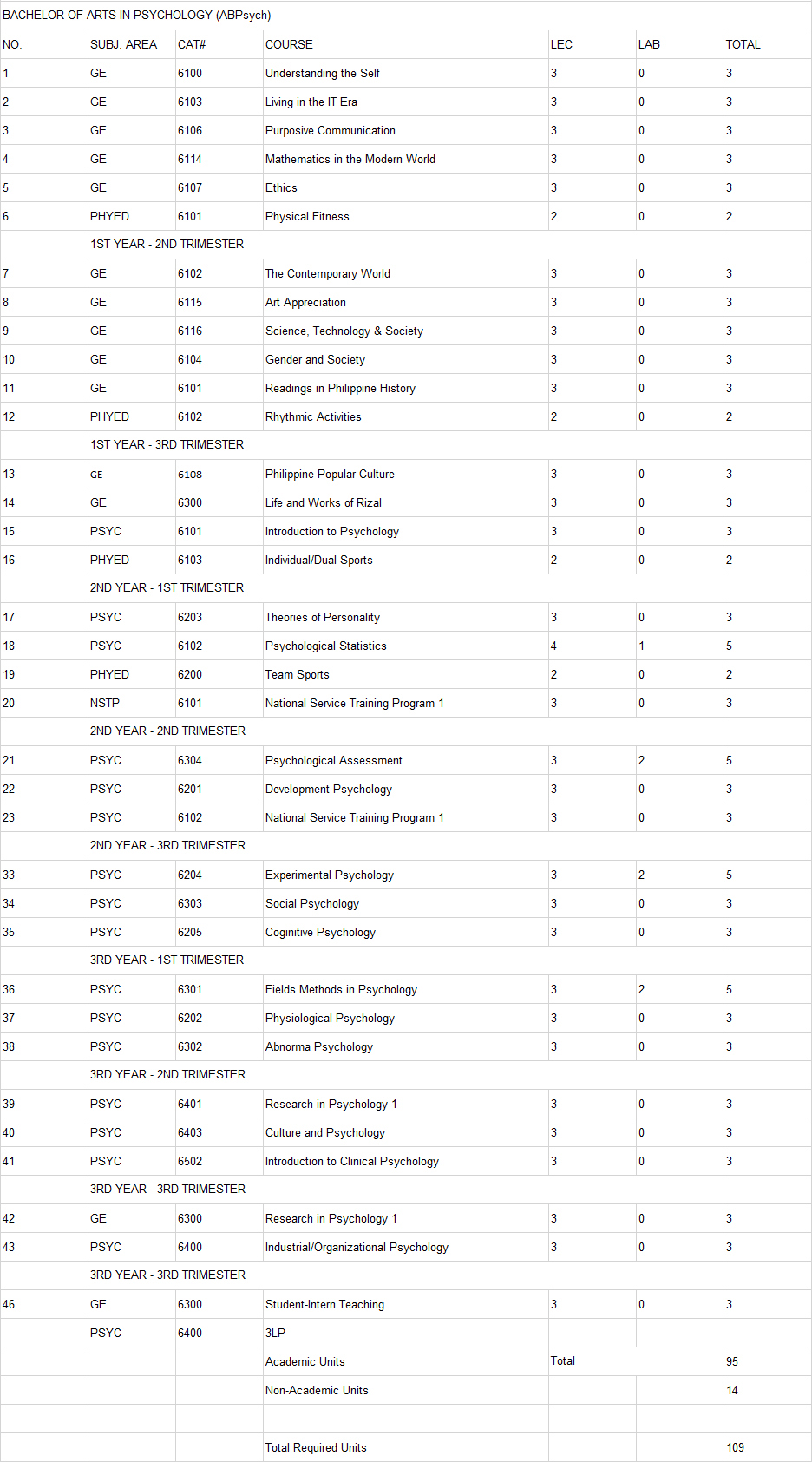 Why Study Bachelor of Arts Major in Psychology Online At OEd
Psychology is a necessary and respected profession in the Philippines. A Bachelor of Arts in Psychology gives you job stability by opening several doors for you both in the country and abroad.
OEd is one of the pioneer institutions in the Philippines to offer a fully online BA Pyschology degree. As an online school, it is one of our thrusts to mold globally competitive alumni who are technologically advanced.
OEd's faculty is led by the leading innovators and thinkers in their respective fields. Students in our online BA Psychology course will be taught by respected psychologists, guidance counselors, and even HR professionals who are all more than happy to impart everything they've learned from their years in the business.
Frequently Asked Questions About Bachelor Of Arts In Psychology Online At OEd
OEd's Go-to Statement
For professionals who would like to pursue their studies and work at the same time, we are the Go-to for flexible distance education with established expertise in the field of online education since 2015. Unlike the other competitors, we value the students by providing the best customer service while giving them the best advice on how to finish their studies as fast as possible. The 24/7 platform accessibility liberates the students to manage their time and learn at their own pace, anytime, anywhere.