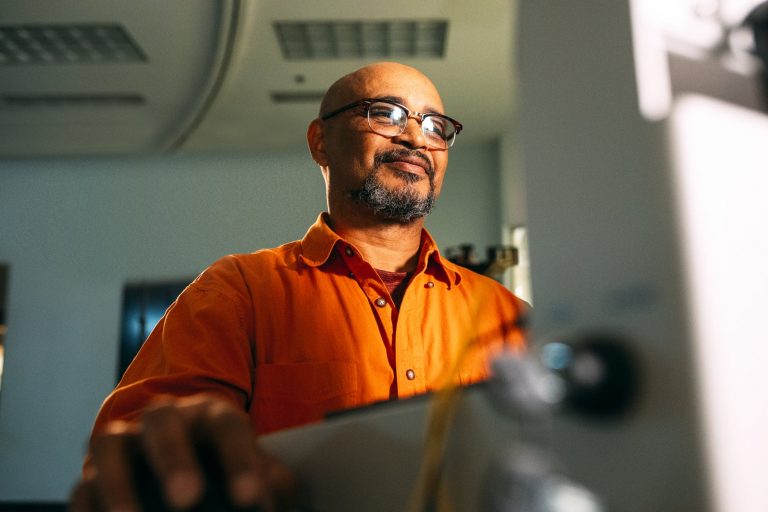 The Bachelor of Science in Computer Engineering (BS CpE) course is designed to apply principles and methodologies in analysis, design, implementation and management of hardware, software, and integration of both. The online Computer Engineering course curriculum is based on the standards set by the Commission on Higher Education (CHED), Accreditation Board for Engineering and Technology (ABET), and benchmarked from the curricula of leading institutions, national and international, offering similar programs to address the needs of the industry.
OEd's BSCpE course aims to produce globally competitive graduates who will be professionally competent, morally upright, and socially responsible contributors to national development.
Specifically, the Computer Engineering online course intends to produce graduates who are:
– Prepared to undertake research and development.
– Able to conduct systems analysis, perform system design and development and implement project management.
– Able to provide appropriate technical support.
– Able to conduct personnel development.
– Able to engage in continuing professional development.
– Able to engage in technopreneurship and practice professional ethics.
The graduates of the Bachelor of Science in Computer Engineering (BSCpE) course may pursue the following careers in the Philippines:
Project Manager/Engineer
Network Administrator/Manager
Data Communications Engineer
Systems Manager/Engineer
Systems Analyst
Technical Support Engineer/Manager
Quality Assurance Engineer/ Manager
Test Engineer
Technopreneur
Educator
Researcher

** Applicable for New incoming students only. Existing students will go by their respective curriculum. List of courses may change subject to evaluation and crediting.
Years To Complete
* Based On Curriculum
Why Study Bachelor Of Science In Computer Engineering Online At OEd
With the world becoming more and more digital, computer engineering courses have become more and more popular in the Philippines. An online Computer Engineering degree helps ensure jobs stability while helping you master the different tools you will need to conquer the digital world.
OEd is one of the pioneer institutions in the Philippines to offer a fully online BSCpE course. As an online school, it is one of our thrusts to mold globally competitive alumni who are technologically advanced.
OEd's faculty is led by the leading innovators and thinkers in their respective fields. Students in our online Computer Engineering degree will be taught by respected network administrators, technopreneurs, and researchers who are all more than happy to impart everything they've learned from their years in the business.
Frequently Asked Questions About BS In Computer Engineering
What is a Bachelor of Science in Computer Engineering degree like?
Because OEd is a fully online school, we have a completely flexible schedule wherein students can design and create a school schedule that best suits their lifestyle and needs.
The online Computer Engineering course will cover topics including physics, computer programming, and purposive communication.
Can you get a BS in Computer Engineering course online?
Yes, you can get a Computer Engineering course completely online! There's no need for you to ever set foot in the OEd campus, not even to submit your application requirements nor for graduation.
Are online Computer Engineering degrees respected?
Yes, of course! An online Computer Engineering course is the same as a traditional course both in terms of curriculum and credits earned. Online degrees go through the same accreditation process from CHED as all the other traditional schools. The biggest difference between the two is the flexibility that comes with online learning.
Where can you work with a BS in Computer Engineering?
Graduates of OEd's online BS in Computer Engineering degree typically find jobs in the corporate world although many do also work for non-government organizations, the government, or go into the academe.
What will you learn in a BS in Computer Engineering program?
The OEd BSCpE course prepares you for a corporate career by arming you with the skills and knowledge you need to succeed. This includes theories on electric circuits, electronics, data analysis, and computer aided drafting.
Is a career in Computer Engineering right for you?
A career in Computer Engineering will inevitably involve a lot of numbers and math. If you are proficient in math or are inclined with numbers, you will do well in a career in Computer Engineering. Computer engineers are people who love to build things, are natural problem solvers, and have a knack for technology.
What are the admission requirements in BS in Computer Engineering?
To learn more about our admission requirements, click here.
Why choose OEd for BS in Computer Engineering degree?
OEd is the first school in the Philippines to offer Computer Engineering online courses. We have long perfected the system by studying and researching the best portals, modules, and teaching methods before even accepting our first batch of students. We can proudly say that our online learning system has gone through numerous tests to ensure it is one of the best in the country, ensuring our students experience a smooth and hassle-free online learning experience, no matter where in the country they may be.
How much does an online BS in Computer Engineering cost in the Philippines?
Tuitions fees greatly vary from school to school but generally, a BS in Computer Engineering degree in a traditional on-campus school can cost a student around P80,000. Online degrees will cost significantly less because you won't have to pay for expenses such as lab fees, library fees, clinic fees, and miscellaneous fees. This comes out to around P60,000 to 70,000 a year.