When you are a young senior high student looking to choose a course you want to major in during college, the decision is always bound to be a little scary. After all, our courses do affect the rest of our lives—from the kind of careers available to us to the kind of lifestyle we can afford as a result of our salaries.
For many students with a penchant for all things tech and gaming, a course in computer engineering in the Philippines seems like the obvious choice. Since our college courses often dictate the future of our careers, it is important to pick something that you feel you can stick with. But what about the other aspects you need to consider when making a decision? If you are a senior high student that has been considering enrolling in computer engineering course in the Philippines, congratulations! You have come to the right place. Read on and discover our answers to some of the most popular questions about the Philippines' computer engineering courses, career paths, and more!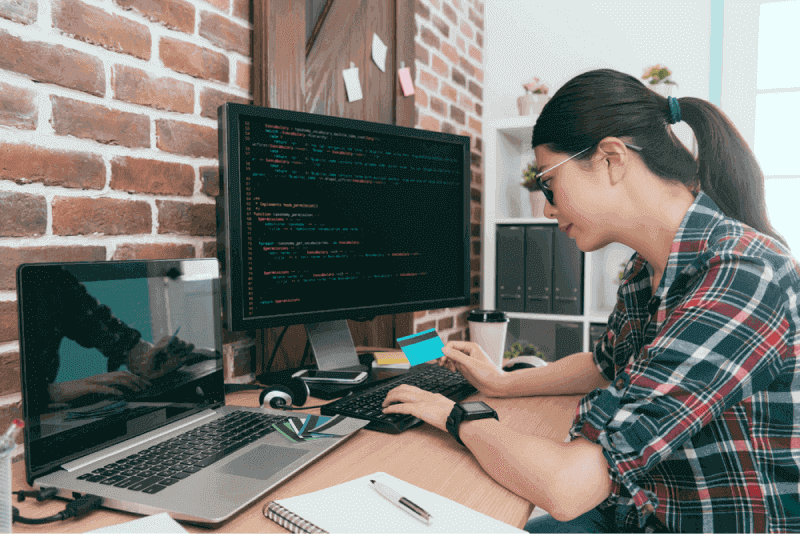 What is Computer Engineering?
The course Computer Engineering is designed to equip students with knowledge in essential principles and methodologies for the implementation and management of hardware and software systems. The American CCECC (Committee for Computing Education in Community Colleges) defines computer engineering as 'the discipline that embodies the science and technology of design, construction, implementation, and maintenance of software and hardware components of modern computing systems and computer-controlled equipment'. Computer Engineering in the Philippines opens up the possibility of entering a globally competitive industry that offers a variety of digital solutions to businesses all over the world.
Is Computer Engineering Hard?
Just like other online academic programs available for senior high students, students hoping to take computer engineering should be prepared to devote their full attention and plenty of time to study their course. Due to the highly technical jargon, principles, and skills that will be taught, aspiring applicants should have either a true passion for the course or the drive to land a fruitful career in a field that requires computer engineering expertise. Edukasyon.ph recommends applicants to hone the following skills in preparation for and over the course of their computer engineering degree:
Analytical Skills for quick problem-solving
Communication Skills to coordinate with your teams both in school and after
Professional Development for the drive to constantly learn according to the latest trends and technologies
Proficiency in Tools and Technology for a better grasp on the technical aspects of dealing with software and hardware in professional settings.
However, nothing worth having ever comes easy. Regardless of the major you choose, it goes without saying that pursuing any sort of tertiary course will require hard work, effort, time, and investment. If you really feel strongly about pursuing computer engineering, do not be discouraged by the technical nature of the course and take this challenge by the horns.
Is There a Board Exam for Computer Engineering?
Though the course is undoubtedly rigorous, computer engineering students do not have to worry about studying for and passing a Board Licensure Exam in order to practice their profession. As soon as they earn their degree, they can immediately dip their toes into the professional word.
With that being said, graduates may want to beef up their portfolios by taking additional certifications and trainings. These not only build the available skills you have at your disposal— they also add to your credibility as a professional in a highly technical field.
How Much is the Salary of a Computer Engineering Professional in the Philippines?
Many students go into computer engineering a little nervous of their careers in the industry ahead of them. However, a degree in computer engineering opens up plenty of opportunities both locally and overseas. While local jobs are in-demand, the salaries of these jobs often pay a little less compared to opportunities overseas. If you do want to keep your job hunting limited to the Philippines, shooting for a position in a multinational company is your best bet at competitive and reasonable pricing that compensates you for your technical expertise.
If you are feeling adventurous, or simply want to explore employment opportunities around the globe, off-shore computer engineering jobs for fresh graduates can pay up to USD 66,070 or roughly three million pesos annually. These figures only rise the more years of work experience you do have, paying USD 160,610 or around eight million pesos for an individual with eight years of corporate experience. Many Filipino computer engineering graduates take to exploring working opportunities in other Southeast Asian nations like Singapore in order to stay close to their families here, while others take the plunge and look for work further down West in places like Europe or the techie mecca of Silicon Valley.
Whether you choose to stay here or abroad though, computer engineering graduates can rest assured that there will be no shortage of jobs that require their unique skills.
Is Computer Engineering in the Philippines the Course for Me?
At the end of the day, only you can make this decision! There are a variety of professions for computer engineering students. Whether you want to be a programmer working for major enterprises as a corporate professional, or if you want to pursue your passion by exploring more specialized careers like game development, a graduate of this course will find their hands full with plenty of opportunities.
Enrolling in a computer engineering course in the Philippines is a decision that will entail a lot of toil and discipline, but like any other major, it is up to you how hard you work. If you think you have the passion and the drive to take the leap, explore an online computer engineering course in the Philippines that sets you up for success and bountiful opportunities!