Pursuing any type of education is an impressive feat that anyone should be proud of. However, picking between an associate degree vs a bachelor degree can be a confusing decision if you are not too familiar with the differences between these two online undergraduate courses. If you are fresh off senior high school and are debating on an associate degree vs a bachelor's degree for your online education in the Philippines, then this is the perfect article for you. Read on and find out the difference between associate and bachelor's degrees to prepare your working life and determine the best option for your future today!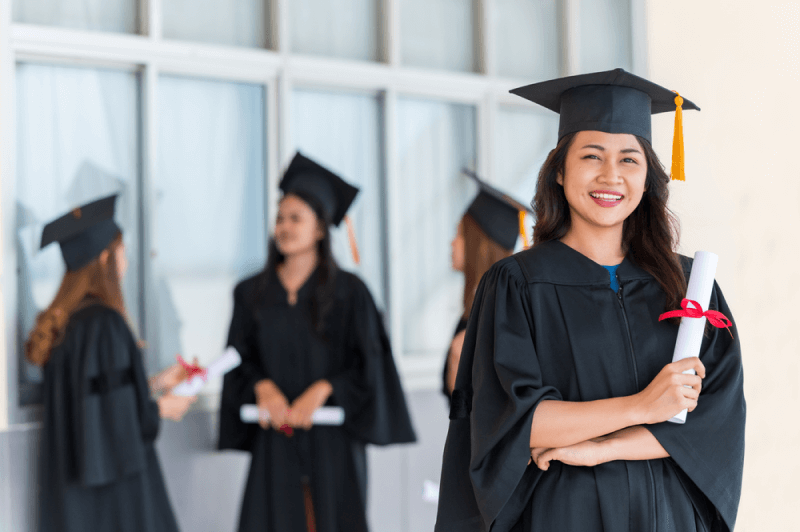 What is the Difference Between an Associate and a Bachelor's Degree?
Categorically speaking, both associate degrees and bachelor's degrees are considered tertiary in nature. This is because they are taken after secondary education, which is senior high or high school. The decision on which of the two is a better choice greatly influences your future. This is because the depth of education and the amount of time and dedication you would need to accomplish the program.
To better understand the differences between an associate degree and a bachelor's degree, it is important to know what each of them is all about. We will go into further detail about both these options so you can make the most informed choice possible.
What is an Associate Degree?
Just like a bachelor's degree, an associate degree is an academic program taken at the undergraduate stage of your education. It can be taken fresh off your secondary education, especially because most senior high students graduate from their tracks with the confidence and readiness. Associate degrees are most widely available in western countries, such as the United States of America, and the United Kingdom. However, it is also gaining traction in Asian nations such as Hong Kong and Singapore.
Associate degrees in the Philippines are more commonly known as vocational courses and are typically available as short courses from TESDA (Technical Education and Skills Development Authority) or their partnered institutions. An associate degree is sufficient to get you basic skills and land you work for your livelihood and to gain experience on the job. The most picked associate degrees students pursue are between IT vs computer science, while others opt for more artistic pursuits such as graphic design.
Why Do People Take Associate's Degrees?
Versus a bachelor's degree, an associate's degree serves as a condensed version of a bachelor's degree. Associate degrees are all about providing a basic understanding of the technical skill and theoretical knowledge you might require for your desired industry— usually in a shorter period of time. For some, an associate's degree acts as a primer to a bachelor's degree. For others, an associate degree is sufficient preparation to take on the next stage of their life as they pursue their careers.
How Long Does an Associate Degree Take?
Associate degrees typically require two years to complete them—if the student opts to take them full-time. When taken part-time alongside a full-time job, associate degrees can take up to four years or more depending on the program and schedule a student has chosen.
What is a Bachelor's Degree?
Between a bachelor's degree versus an associate degree, bachelor' degrees are the more widely available undergraduate in Philippine educational institutions. This is largely due to the fact that associate degrees rarely see enrollment. Most Filipinos opt to dive straight into a full-time bachelor's degree program. On the other hand, other young professionals in the Philippines want to spend less time studying and more time gaining work experience after accomplishing a TESDA-licensed short course.
While bachelor's degrees also cover the basics that you need to start in your industry, they also take a deep dive into your coursework. This additional subject matter and time gives you the chance to build a good foundation for your skills and the various theories and principles that any professional in your industry may be expected to have.
Why Do People Take Bachelor's Degrees?
Aside from the depth of study, one big difference between an associate degree and a bachelor's degree is the workplace opportunities that they can grant you. Many of the most lucrative employers in the Philippines include a bachelor's degree as one of the minimum requirements for job application. This is because the expertise of a degree holder is something that most workplaces value heavily.
For example, a successful multinational would be willing to pay a premium to hire a new HR member who finished a BA Psychology course if it means they can care better for the welfare of the employees. Likewise, a company that requires attention to detail and credibility for their finance department. They may be willing to shell out a bit more to offer a more competitive package to an applicant that finished an online accounting course in the Philippines.
Bachelor's degrees may be longer and harder, but a big part of why they are chosen is because of the promise they lend to our future.
How Long Does a Bachelor's Degree Take?
Between a bachelor's degree vs an associate degree, it is no wonder that bachelor's degrees can take longer to finish due to their scope and subject matter. However, the length of a bachelor's degree can depend on the length of your chosen program, as well as the academic calendar of your chosen university. Some schools offer bi-semestral school years, while others offer slightly shorter terms per year in the form of trimesters. Depending on this schedule, a bachelor's degree can take anywhere between three to five years.
Which is the Better Choice?
Ultimately, you know the best answer to suit your own circumstances and personal goals. If you want to begin working fresh out of senior high with a little bit of a head start, then maybe an associate degree is a good choice for you to take. After all, you can always decide to take a bachelor's degree later on. On the other hand, if you want to power through the last leg of your education before debuting in the professional world, then perhaps a bachelor's degree is the best pick to suit your goals.
Whatever your choice may be, just take care to consider all your choices and to make the best decision to meet your needs!